Regular price
Sale price
$0.00 USD
Unit price
per
Sale
Sold out
Presenting the Faux-Tin 808 Guitar Pedal Plugin: Sculpt Your Sonic Destiny!
Unleash your creativity with the Faux-Tin 808, a virtual guitar pedal that takes you on an unparalleled sonic journey. Immerse yourself in the true essence of sound, meticulously designed to mirror the revered hardware pedal. Elevate your musical expressions effortlessly with a plugin that embodies innovation without compromise.
The soul of the Faux-Tin 808 lies in its intricate modeling, flawlessly capturing the magic behind some of the most iconic tones of all time. And when the realm of extreme metal calls, the Faux-Tin 808 answers with unbridled power, dominating in genres like Death Metal, Deathcore, Grindcore, and Modern Metal.
Transcend complexity with the Faux-Tin 808's user-friendly interface. Craft your perfect tone with intuitive controls that let you sculpt your sound with precision. Say goodbye to the frustration of endless adjustments and welcome a world where your musical visions come to life effortlessly.
The Faux-Tin 808 Guitar Pedal Plugin is your catalyst for sonic ingenuity. Redefine your music, explore new genres, and paint your sonic canvas with brilliance. As you step into the realm of digital artistry, remember that innovation and authenticity harmonize here. Unleash your potential and let your music break barriers. Your journey to tonal supremacy begins now.
The Faux-Tin 808 overdrive pedal plugin offers...
Input and Output controls for signal gain staging.
A built-in noise gate that sits in front of the pedal so you can gate the DI signal before it hits the pedal. Turning this all the way down effectively turns it off, in case you have a separate gate you'd like to use.
A "Mix" knob that allows blending the original DI signal in with the processed signal. This can be a very useful tone shaping tool. If the pedal is too much, just turn down the mix knob to ease back the overall amount of processed signal that's coming out of the plugin.
A "Pre Lowpass" and "Pre Highpass" filter for more tone shaping control of the DI signal before it hits the pedal.
A "Post Lowpass" and "Post Highpass" filter for tone shaping of the processed signal coming out of the pedal. This can be very handy for when you're using lower tunings and want to tighten up the tone. Simply turn up the "Post Highpass" until you hear the tone tighten up enough, without losing too much bottom end.
3 highpass filter slope options for complete low-end control. These 3 options represent a 6dB/octave, 12dB/octave, and 24dB/octave slope, giving you full control over how you'd like to tailor your low-end.
Share
View full details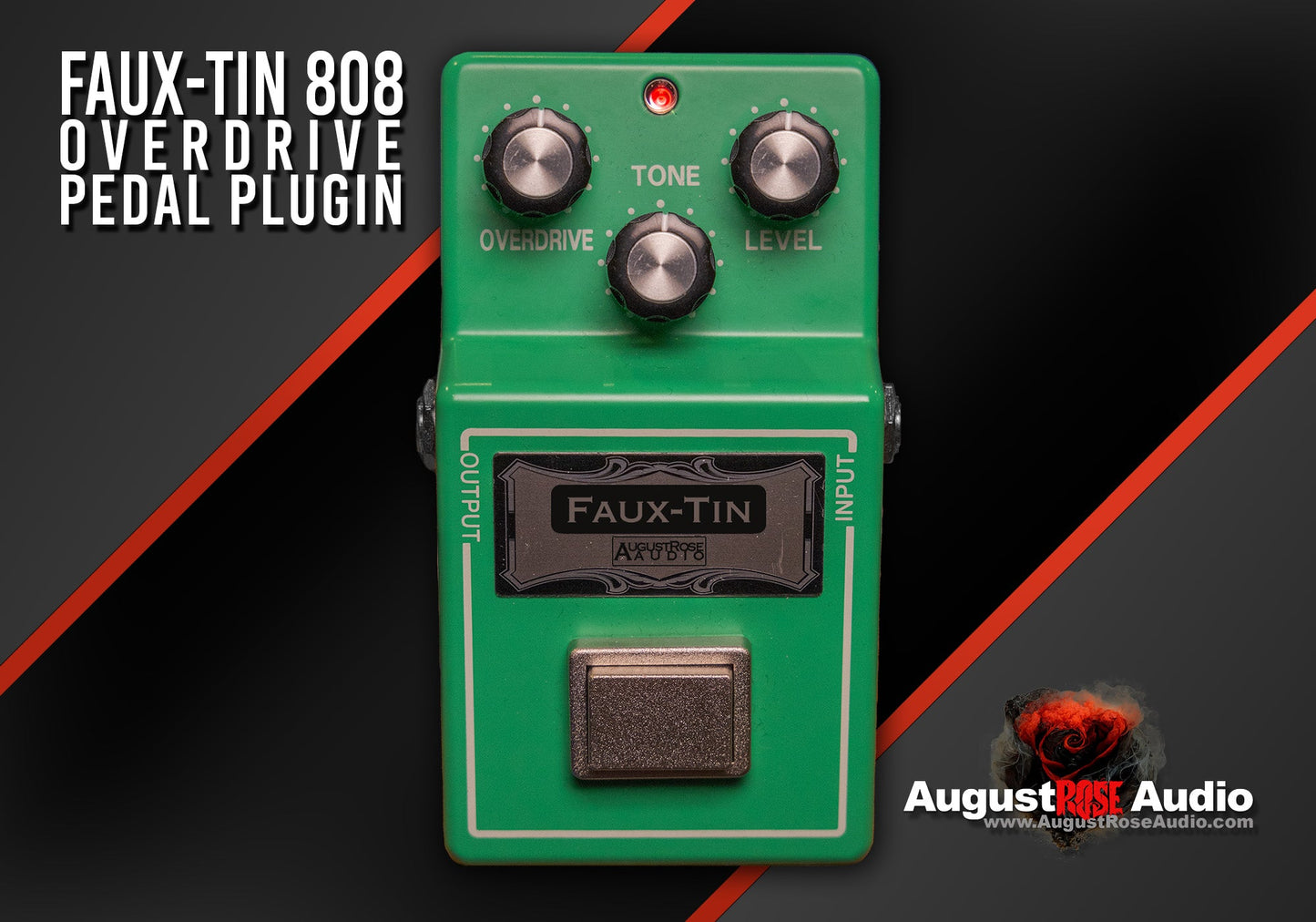 You've got questions, we've got answers...
How do I use it?

Use the provided installers to install the plugin, then open your DAW. If you don't have it setup to automatically scan for new plugins, start the scan manually. This process is different for each DAW, so refer to your DAWs manual for how to start a scan for new plugins. After the scan is complete, you can insert an instance of Faux-Tin 808 on your tracks, before your amp sim.
What plugin formats are provided?

AAX (Pro Tools for Mac & Windows), AU (Mac) and VST3 (Mac & Windows)
Will it work in my DAW?

Logic, Reaper, Cubase, Ableton and Pro Tools are officially supported. If you try it out with a different DAW and find it's working, please let us know so we can update the list of supported DAWs.
System Requirements?

Mac:
• macOS Monterey (v12) or greater
• Intel or M based chip (we recommend at least 4 cores)

Windows:
• Windows 10 or greater
• Most CPUs with at least 4 cores should suffice. If you run into issues and increasing your buffer size doesn't fix it, you likely won't be able to run this software at this time. We're always looking to improve performance so there may be a future update that performs better on older, less powerful, CPUs.